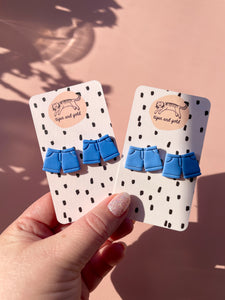 Jorts, cutoffs, jean shorts, denim shorts...whatever you call them you can now have them on your booty and on your lobes. Each of these cuties measures 1.5x2.25cm.
Each piece is handmade and one of a kind so the item you receive might vary slightly from the photos. All items will have the character of handmade pieces. Please see the care page for instructions on how to ensure your new earrings stay well loved.
Made with polymer clay, resin, and hypoallergenic gold coated stainless steel posts.