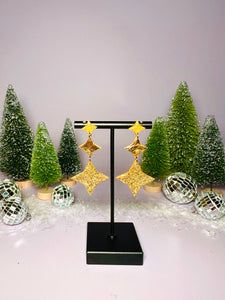 This stack of four point stars features three different types of gold sparkle and shine. Perfect for the holidays but also any time you want to walk around looking like the glitter emoji. You know the one. Each earring measures 6x3cm.
Each piece is handmade and one of a kind so the item you receive might vary slightly from the photos. All items will have the character of handmade pieces. Please see the care page for instructions on how to ensure your new earrings stay well loved.
Made with polymer clay, resin, and hypoallergenic gold coated stainless steel posts.