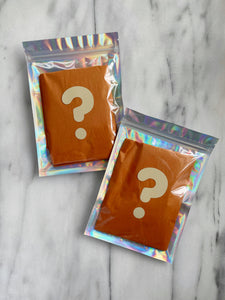 Do you love a surprise? In need of a treat yourself moment? Need to give someone a gift and are paralyzed by choice? Let me introduce you to the Tiger and Gold Mystery Bag!
Each bag contains a pair of statement earrings, a pair of studs, and a 20% off coupon for your next Tiger and Gold purchase. Some of the pieces in your mystery bag might be something you've seen on Tiger and Gold before or it could be a completely exclusive piece made just for your Mystery Bag! 
All mystery bags are packed in advance and chosen at random so unfortunately special requests cannot be accommodated. Relish the fun of the surprise!
All items will have the character of handmade pieces. Please see the care page for instructions on how to ensure your new earrings stay well loved
Your pieces may include polymer clay, resin, and/or glitter with gold coated stainless steel posts.